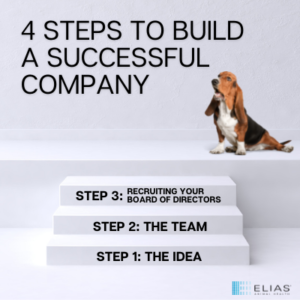 In this third installment of From Inspiration to Thriving – 4 Steps to Build a Successful Company, ELIAS Animal Health's founder, Tammie Wahaus, shares Step 3 – Recruiting Your Board of Directors. The foundation (Step 1: The Idea) has been laid, the right people (Step 2: The Team) are in place, and now it's time to fill critical gaps by assembling a highly qualified Board of Directors or Advisory Board.
Whether you're building a company, a customer base, or a team, diversity is essential. We sometimes think of diversity in narrow terms, as one color in a painting. Diversity, however, is the palette – it encompasses characteristics like gender, age, race, ethnicity, beliefs, experiences, lifestyle, and everything in between.
Diversity is All-Encompassing
All companies have diverse customer bases, and they are best able to serve them and meet their needs when organizations reflect that diversity from top to bottom. Innovation and ideas are sparked by approaching problems from different angles, and diverse teams naturally generate creative solutions.
Who Should Comprise Your Board?
The same is true when assembling your Board of Directors or Advisory Board. By focusing on diversity in thought, experience, and expertise, you are able to fill gaps in your leadership team which, in the early days, is a small group that is responsible for absolutely everything. It's virtually impossible for your startup team to be good at everything that needs to happen. You're bootstrapping and centered on the areas that are essential to the core work you do and are foundational to the company.
Board Composition is Ever-Changing
As I studied the composition of corporate boards of public companies, I discovered that they were diverse in disciplines. These boards shift members to meet the changing focuses of the company. For example, when an organization is facing a merger or acquisition, it may alter its board structure to reflect the legal work that needs to be done in that situation.
We Have Two
We recognized early on that ELIAS needed the support of both a Board of Directors and a Scientific Advisory Board in order to address business needs, as well as to lead the clinical research and development necessary to build a health sciences company.
When I began to build the ELIAS Board of Directors, I intentionally sought out a diverse team of seasoned executives who complimented our mission and also filled glaring gaps. In addition to my background in health sciences and strategic development, our board members have extensive experience in the following areas that are essential to our growth:
Strategic planning
Building resilient teams
Investment and private equity
Animal health
Startup growth and development
Finance and venture capital
Marketing and communications for animal health
We have a separate Scientific Advisory Board that guides the research and development, testing, and implementation of our cutting-edge therapies. This group has extensive experience in human health R&D, leading trials, developing therapies, bio life venture development, liaison and relationship-building, and educational and research expertise.
As you consider who should comprise your advisory, identify your mission, the key components that are critical to growth, and which areas of focus require outside expertise. By creating two different sets of advisors who each elevate different sides of our strategy, ELIAS enters the marketplace from a position of strength. Assembling a qualified Board will help ensure that your company is able to navigate the challenges of growth with the confidence that comes with experience.
Next week, we'll finish up the series with Step 4: The Pivot – and it's probably not what you think!