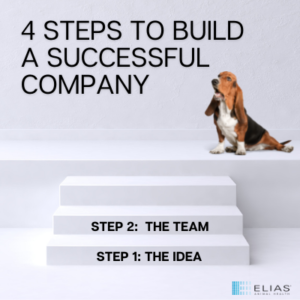 This is the second part in ELIAS Animal Health's blog series that shares our story. If you missed part 1, Step 1: The Idea, be sure to check it out, as it serves as the foundation for this installment. Our founder, Tammie Wahaus, defines the process of turning an idea into a funded startup. In Step 2, Tammie discusses what happens after raising capital…
Step 2 : The Team
Once a startup has secured funding, there are expectations to be met. Investors are not only backing an idea; they are backing the business plan that leads to profitability and scaling, and that plan must be executed by a team that possesses the expertise and skills necessary to build a thriving company.
Leaders often want to hire individuals who are highly skilled in one or two particular areas. My experience taught me that, in addition to expertise, cross-functionality is critical when identifying a startup team. In the early days, the team typically consists of a few key individuals, each of whom must:
Be passionate about your mission
Have deep expertise in the area you're asking them to oversee
Have broad flexibility to work in areas in which they are not subject matter experts
"Sometimes you have to take out the trash."
I was on a call with a couple of entrepreneurs last week, and we were discussing the realities of startup mode. You can't hire everyone on Day 1 to do everything that needs to get done. The entire team has to pitch in. There must be a collaborative spirit and a willingness to roll up your sleeves and yes, sometimes take out the trash! Your startup team is more than a group of talented people; it's also a team that possesses a broad business acumen that equips them to fill the gaps.
As I looked to assemble our team, I sought out people who held the critical skills we needed to execute the plan: I filled the CFO role and have taken charge of many other responsibilities, and our chief medical officer is also in charge of networking and relationships with outside service providers. We're great at our core areas of expertise, but we have also become skilled in areas that are essential to growth.
Identifying the most essential roles that need to be filled will help you find the people you need to launch the idea into a business. There will still be gaps, however, and that's where your Board of Directors or Advisory Board comes in. Next week, we'll dive into that more deeply.