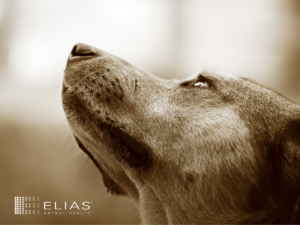 We're halfway through a series exploring canine cancer. Last week, we discussed the prevalence of dog cancer, and today we will explore the connection between it and human cancer.
Human cancer research is extensive. Almost anyone I encounter has either battled cancer themselves or has journeyed that path with someone close to them. Many people are surprised to learn that one in four dogs are diagnosed with cancer and that it's the leading cause of death in canines.
ELIAS Animal Health applies the advancements in human immunotherapy to dogs. They're good models. From a scientific perspective, we are able to gather data more quickly than in human research because dogs have a shorter lifespan and cancer progresses more quickly in them. From a "we love our furry friends" perspective, we want to bring needed therapies into the veterinary marketplace that help people.
ELIAS Cancer Therapies Are Being Simultaneously Developed for Humans
While all cancers are different, many share similarities. Through collaborations with human health companies, ELIAS is bringing a new personalized cancer therapy to the veterinary market. For example, the research on this immunotherapy in humans has been focused on glioblastoma, a difficult-to-treat form of brain cancer. In our clinical studies, we've found that it can be effective in treating osteosarcoma in dogs.
ELIAS licenses its technology from human health companies, which is actually a two-way collaboration. We work closely with our counterparts to adapt their knowledge to canines, and they're able to apply our findings to their R&D. Our ability to gather data more quickly in canine trials provides valuable insights that may take years to learn from human trials. With this collaboration, we're able to extend technology across multiple cancer types in both humans and dogs.
In addition to the ELIAS Cancer Immunotherapy (ECI®), we entered a new licensing agreement with a company focused on oncolytic virotherapy. This will expand our capabilities to treat different types of canine cancer. We're also exploring the licensing of a third technology to broaden our opportunities to help canines and humans.
The similarities and crossover between canine and human cancers can benefit all of us—our pets included. Like most things in life, we learn from the blood, sweat, and tears of others and seek to improve upon what came before. ELIAS is ready for the challenge to make a difference in cancer research.
We've focused on immunotherapies that may be used in stand-alone treatment settings or in combination with other therapies because the technology uses the body's immune system to combat cancer.
In the final part of this series, we'll dive into how immunotherapy works and why it can be a promising tool to fight cancer.