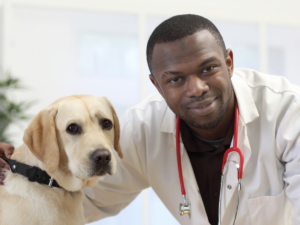 This is the second part of a series that highlights the innovation, people, and opportunities that have been part of my ELIAS journey. Last week, I focused on solving a problem: treating dogs with cancer using methods that lengthened and improved their quality of life. This segment is dedicated to the people who are part of the solution.
The family veterinarian plays an important role in a pet's life and in the lives of the family who loves them, similar to that of a primary care doctor in the human realm. Through regular check-ups, the family veterinarian keeps the dog healthy.  When he or she suspects something is wrong, they assess the issue and connect the pet and owners to a specialist if necessary.
When a dog is diagnosed with cancer, it starts a process of care. The initial point of contact is often the family veterinarian, who diagnoses the cancer. Many veterinary clinics are not equipped to treat canine cancer, so the pet and family may choose to consult a veterinary oncology specialist, who then develops a treatment plan.
Traditionally, that treatment consisted of chemotherapy and sometimes radiation. Veterinary oncology clinics and their teams have treated many dogs with the current standard of care. This allows them to operate efficiently and effectively—it's like muscle memory. It's a similar process, repeated with skill and grace for each patient.
ELIAS cancer immunotherapy (ECI®) introduces a new treatment option and creates a shift in that process. As with all innovation, it requires change, which can be hard and demands dedication. In fact, I wrote an entire series on that topic last fall. The ELIAS team works closely with the veterinary oncology team to implement a personalized treatment plan for dogs diagnosed with cancer.
The adage 'it takes a village' is a great analogy for treating canine cancer. Each team throughout the process plays an essential role in the pet's success. Just like with people, when a dog gets cancer, the entire team comes together to provide the best possible care.
From the family veterinarians and oncology experts to the ELIAS team to the pet's family, we all serve crucial roles with one goal in mind: help the patient overcome cancer.
 To learn more about ELIAS, check out our website.